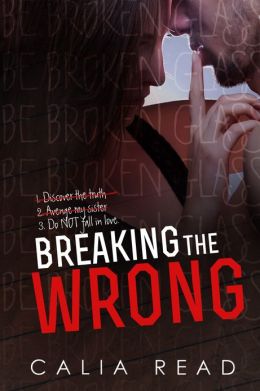 Breaking The Wrong ( Sloan brothers #2) By: Calia Read
Blurb: E
milia Wentworth would do anything for her sister.
For three years, Emilia has lived in the past, feeling her sister's pain and hating those who are to blame, including one of the Sloan brothers.
Finally, she has had enough. The only way to be free is to create a Burn List with all the people who have ever hurt her sister.
As she crosses each name off, she gets closer and closer to her final target. But, things aren't always as they seem.
Loyalties are tested.
Boundaries are crossed.
And the truth is revealed
My Take: Well when I first started this book I was kind of afraid to read it... Even though this was only book two I have grown to love these people.. I was not only afraid something bad would happen To Macsen, but also Severine and Thayer...
I loved that Macsen finally got his "Severine".. I was very pleased to see him man up to the occasion and tell Emilia all of the things he was so afraid to tell Severine...... Even though he had people telling him to be careful, he still put his trust in her......
I love that Emilia was such a watcher and I was afraid of what she was going to do and what could have happened in the past to make some one into that person......
I feel so much pain for Emilia no one should ever go through that..... I was pleased to see her take a step back and get to know Macsen.
I felt the pain that these two went through not only alone but also together. I was very pleased with the way things went in this book, even though I was afraid to read it in the beginning, and I am very happy that i did read it! I cannot wait until book 3 comes out
I give this book 5 out of 5! LOVE IT!