With You By: Nashoda Rose
Blurb:
Sculpt is an illegal fighter.
He's also the lead singer of a local rock band.
No one knows his real name.
And from the moment I met him, he made me forget mine.
In order to convince Sculpt to give me self-defense lessons, I had to follow his one rule—no complaining or he'd walk. I didn't think it would be a problem. I'd been bucked off horses, kicked and stepped on. I could handle a few bruises. What I hadn't anticipated was landing on my back with Sculpt on top of me and my entire body burning up for him.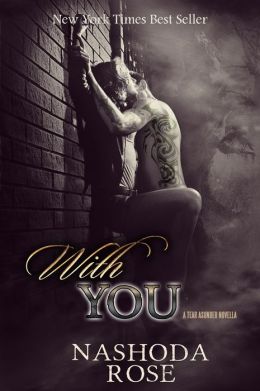 I tried to ignore it.
Then I tried to stop it.
I failed of course. And having a hot, tattooed badass on top of me week after week, acting cool and completely immune to what he was doing to my body—it was frustrating as hell, so I broke his rule—I complained.
Then he kissed me.
My Take
: Well when I started reading this I had never heard of it or read the summery on it, I had only seen it all over the place. So I took a chance at reading it. Well i fell in love with Emily and Sculpt when I was done I was blown away i couldn't believe what had just happened.....
I like how Sculpt is kind of distant and at the same time hes not. I like how he spends so much time with Emily and wont let her do things that are dangerous like riding public transportation at night. I was surprised to see that he wasn't more open to giving her self defense training when she first asked, but i did like that once he heard why she wanted them that he wanted to protect her.
Emily was so strong even after being attacked she stood strong and and held her ground and wouldn't take no for an answer. She never quite and never cried about the training or the pain from it..
Once Sculpt started to really connect to Emily I was lost. Only to pray the store is not even close to being done...... When it was over I panicked praying that book two was out and i didn't have to wait a year to read it..
Has to be one of my top 25 favorite books!
I give it a 5 out of 5!